Vicki Tsoulamanis, DMO, RMT
Manual Osteopathic Practitioner, Registered Massage Therapist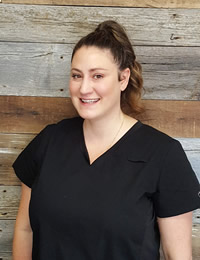 Vicki's approach to treatment combines the manual osteopathic perspective with an integration of massage therapy. She treats a multitude of spinal and bodily complaints, including but not limited to, Whiplash associated disorder, Sport injuries, Repetitive strain, Migraines, Sacroiliac joint dysfunction, Temporomandibular joint disorder (TMJD), Irritable bowel syndrome (IBS), Hormonal imbalances and many more.
Vicki has 18 years of experience in working as a health care practitioner. Her journey began in 2001 when she first pursued the massage therapy training at Mount Royal University. After completing the clinical therapy program, she focused her attention in injury management and acquired further specialty training in managing dysfunction of the cervical spine and peripheral joints as well as sacroiliac joints and knee, leg, ankle, and foot. Her aim was to work in collaboration with other health care professionals to create a full spectrum approach to treatment.
Vicki worked for over a decade at the Canadian Sport Rehab Clinic with the sports medicine team for the Calgary Flames and Team Canada. She held the position of lead massage therapist from 2004 to 2011. There she was able to work with many high level athletes from ultra marathon racers to CFL football players, to olympic bobsled teams.
In 2012, she decided to take some time off to raise a family. In that time she was blessed to have five beautiful children; a singleton daughter and two sets of identical twins.
Upon deciding to return to the clinical setting, in 2018 she enrolled in the National Manual Osteopathic College and acquired a Diploma in Manual Osteopathy. There, she gained a vast amount of insight and the unique skill set including gentle spinal techniques, visceral manipulation, cranial sacral therapy and advanced fascial release techniques.
Meeting the highest standard of practice is important to Vicki as a practitioner, so she also recently upgraded her massage therapy education and completed the 2200hr Massage Therapy Diploma from MH Vicars College of Massage Therapy. Having a new and updated diploma has deepened her skillset, and helped keep her up to date on the current knowledge base and standard of practice available as a Massage therapist.
Vicki has found a balance between being a supportive mom to her family, as well as nurturing her passion and clinical skillset to provide care to people looking to maintain a fully functioning body without pain or dysfunction.
To find out if Vicki can help you with your current health concern, or to schedule an appointment, call (403) 851-8868.